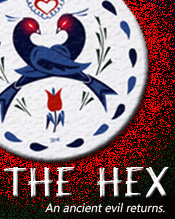 A group of teenagers unknowingly unleash a curse placed on their town when they steal a hex sign off the side of an Amish barn.
Rose Paulson reluctantly accompanies her boyfriend and another couple in stealing a hex sign off the side of an Amish barn. When the missing sign is broken, townspeople begin dying violent and mysterious deaths. Rose learns that she and the others may have unknowingly unleashed a curse placed on the town by a witch who was burned at the stake in the early 1700's. The Amish offer a reward for the signs safe return, fearing the consequences if it isn't replaced soon. After Rose's Grandmother who raised her is killed, she turns to, Jacob, a young Amish boy for help; as the curse grows stronger so too does the attraction between the two. Together they race against time to stop the curse, uncovering the role "past sins" by both of their communities played in the curse. As the townspeople storm the Amish community, blaming them for what is happening, the witch returns seeking her final vengeance. In the end, it is a love greater than any evil which breaks the curse and leaves everyone's lives changed by the choices they've made.
This project is currently IN DEVELOPMENT.